For better experience please use Chrome, Firefox and Edge browsers.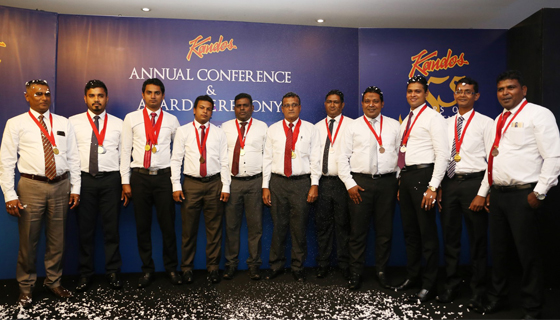 KANDOS ANNUAL SALES CONFERENCE AND AWARD CEREMONY
06th of November 2017
Kandos, the premier Sri Lankan chocolate made to the highest standards of taste, goodness and quality using Criollo the real cocoa essence used by the people who introduced chocolate to the world, the ancient Mayans, and thereby achieving international acclaim and local loyalty, held its island wide sales and distribution team, 06-11-2017 at the Grand Monarch Hotel, Thalawathugoda in a glittering extravaganza.

While these awards were in respect of the financial years 2015-2016 and 2016-2017, sales personal and Area Sales Managers who had successfully achieved their annual sales targets and exceeded same were the beneficiaries of these awards. The chief guest at this prestigious event was the Chairperson of the Upali Group of Companies Mrs Lakmini Welgama and the distinguished guest was Mr. Nimal Welgama.